There are many advantages to using eGaN FETs for the 350 V half-bridge module. Discover here what our partner Sensitron has developed.
The basic building block used in many power systems is the half-bridge. In short, it consists of two power FETs in series and their respective gate drivers. While discrete FETs and gate drivers can be used to make this function on a board, often it is advantageous to use a half-bridge module.  There are many benefits of using a half-bridge module. This includes the use of a single pre-qualified part, shorter lead times, and higher performance.  Sensitron (sensitron.com) has been a supplier of power modules for over fifty years, and their latest product is even more attractive due to the use of EPC's eGaN FETs.  Sensitron collaborated with Efficient Power Corporation to use the recently released EPC2050 GaN FET to develop a 350 V half bridge module. Designed for commercial, industrial, and aerospace applications, the SPG025N035P1B half bridge intelligent power module is rated at 20 A and can be used to control over 5 kW.
Have a look to Figure 1. The package size reduction which was achieved by upgrading from Si and SiC to GaN:
Figure 1: Size reduction achieved by upgrading designs from silicon to silicon carbide (SiC) to gallium nitride (GaN).
Advantages
Speed–rated 500 kHz, which is excellent for a 350 V module
Efficiency – low switching losses
Thermals – isolated top-side cooling, for best system thermal design
Size – a clear size reduction from previous modules, 1.1″ x 0.7″ x 0.17″
Reliability – Sensitron's and eGaN's proven field reliability
The very small size of the EPC2050 GaN FET (1.95 x 1.95 mm) was key to achieve the small size.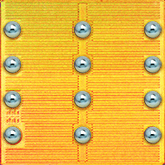 Chip-scale packaged EPC2050 eGaN FET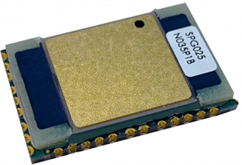 Sensitron 350 V, 20A Module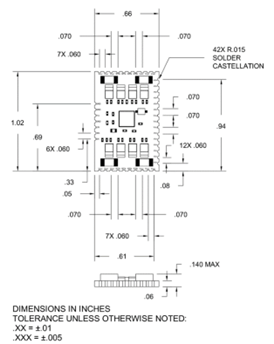 Sensitron teams up with EPC
Collaboration between Sensitron and EPC on the development of the module began before the EPC2050 350 V eGaN FET was in production. Sensitron did multiple iterations, improving the module as the 350 V GaN FET completed qualification. During the final development phase, EPC changed the dimensions of the eGaN FET to a thinner package which created internal changes to the module housing. With this adjustment, the already excellent junction-to-case thermal conduction was further improved. The SPG025N035P1B half bridge intelligent power module includes a bootstrapped floating gate drive for the high-side FET. The integrated gate drive optimizes high-frequency switching performance while eliminating voltage sensitivity concerns.
Summary
Sensitron was able to reduce the size of their product by 60% while also improving the module's already excellent junction-to-case thermal conduction by replacing traditional silicon FETs with EPC's 350 V, EPC2050 GaN FET. Optimal thermal performance is achieved through proprietary topside cooling technology on this ultra-small, lightweight high power density package (1.10″ x 0.70″ x 0.14″). Additional package ratings are also in development, including a 200 V, 20 A half bridge with an integrated gate drive. This module is the result of cooperative development between Sensitron and EPC.
Credits: Sensitron GaN Talk Forum